Since 1968, a group of dedicated Michigan attorneys--led by Elbert Hatchett--have built a reputation for capable, outstanding, and aggressive representation of their clients. In civil matters, few firms have compiled as successful a track record of major awards as The Hatchett Firm. Elbert Hatchett is recognized as one of the nation's leading trial lawyers in both civil and criminal cases.
Starting with the original partnership of Elbert Hatchett, Christopher Brown, William Waterman, and Fletcher Campbell, the firm has distinguished itself and earned a reputation for winning many precedent setting cases that have impacted the legal landscape in the State of Michigan and in the United States.
Hatchett, DeWalt, & Hatchett is often viewed as the "Lawyers' Law Firm." Over the years, the firm has counted scores of judges and lawyers among its clients. When these professionals' careers and/or freedom hung in the balance, they turned to the "Lawyer's Lawyer" - Elbert Hatchett.
Whether professional or working class, Hatchett, DeWalt, & Hatchett clients recieve the same level of effective, high quality representation.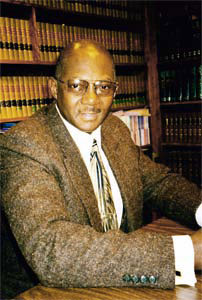 Elbert L. Hatchett